Description
Features:
1:Four Smart Production: embeded Smart Chips provide 4 protection-Overcurrent Protection/Overheated Protection/Short Circuit Protection/High Voltage Protection.
2:High Conversion Efficiency: Synchronization Rectification Technology-multiple intelligent protection function with high conversion efficiency and stability. The conversion efficiency may reach 95%.
3:Aluminum Shell and Silicone Sealed design : Waterproof,Anti-shock,Anti-humidity and Dust-proof, more durable.
4: Small Size:Wide application for motor,dashcam,LED strip lights,LED display,electric fan,camera,light,etc. Easy DC-DC/AC-DC Changing.
5:Overcurrent, overtemperature, short circuit protection, Self-Recovery.
Specifications:
Condition: 100% Brand New
Input voltage: DC48V (DC30V-60V)
Output voltage: DC12V
Conversion efficiency: 95%
Module Type: DC-DC Buck Converter
Output Current:10A (Max)/120W
Volume: 7.4x7.4x3.2cm
Product Size Chart: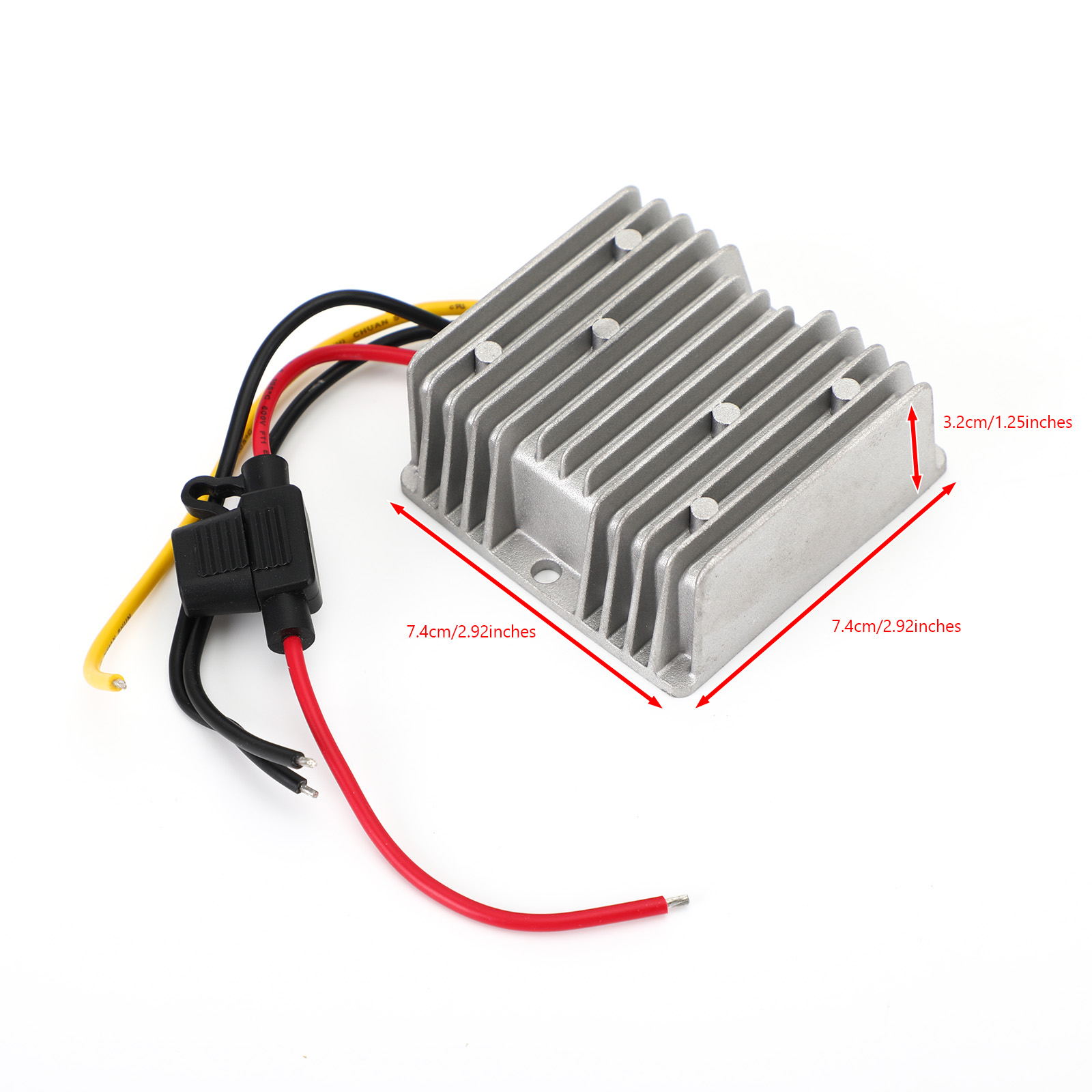 Please note:
1. Please make sure there is sufficient input supply voltage and power,in order to ensure that the module can output enough voltage and power.
2. please take with an average load, do not merge,if there are multiple output cables in the output port.
3. you need to pay attention to make the power module cool,if output is up to the maximum current value.
4. in strict accordance with characters wiring, fuse the input voltage polarity,must not reversed, or it may damage the power supply module, when the output voltage polarity is reversed, it may damage electrical equipment
Package Included:
1x DC/DC Converter Regulator